DENNE MÅNEDENS FREMHEVET BÅT
AZIMUT 68 FLYBRIDGE   VERSJON «Aft Galley»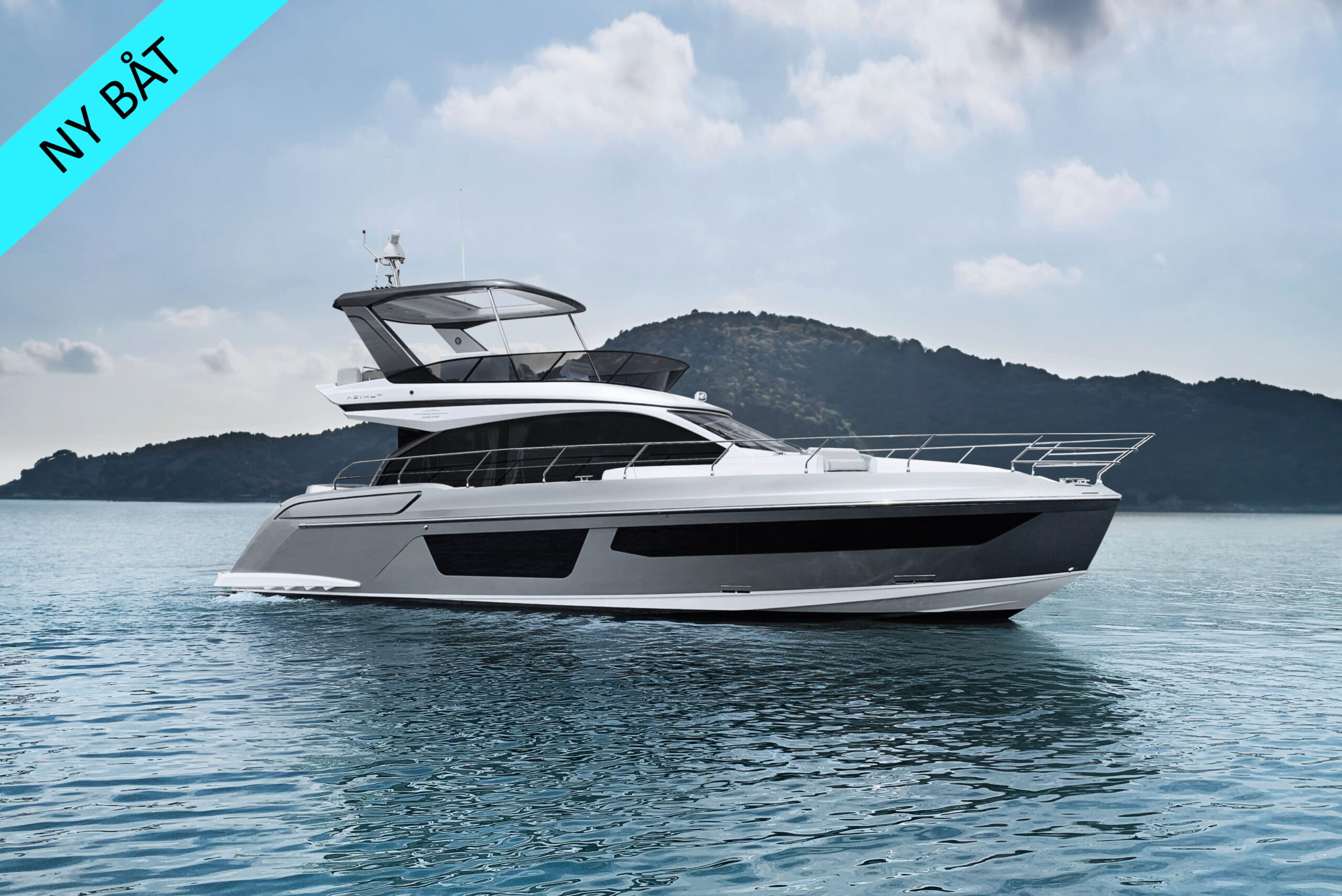 LEVERING 2023 – AZ50/new Spec
Denne kan leveres vår 2023, men du må bestemme deg nå! Kun denne båten.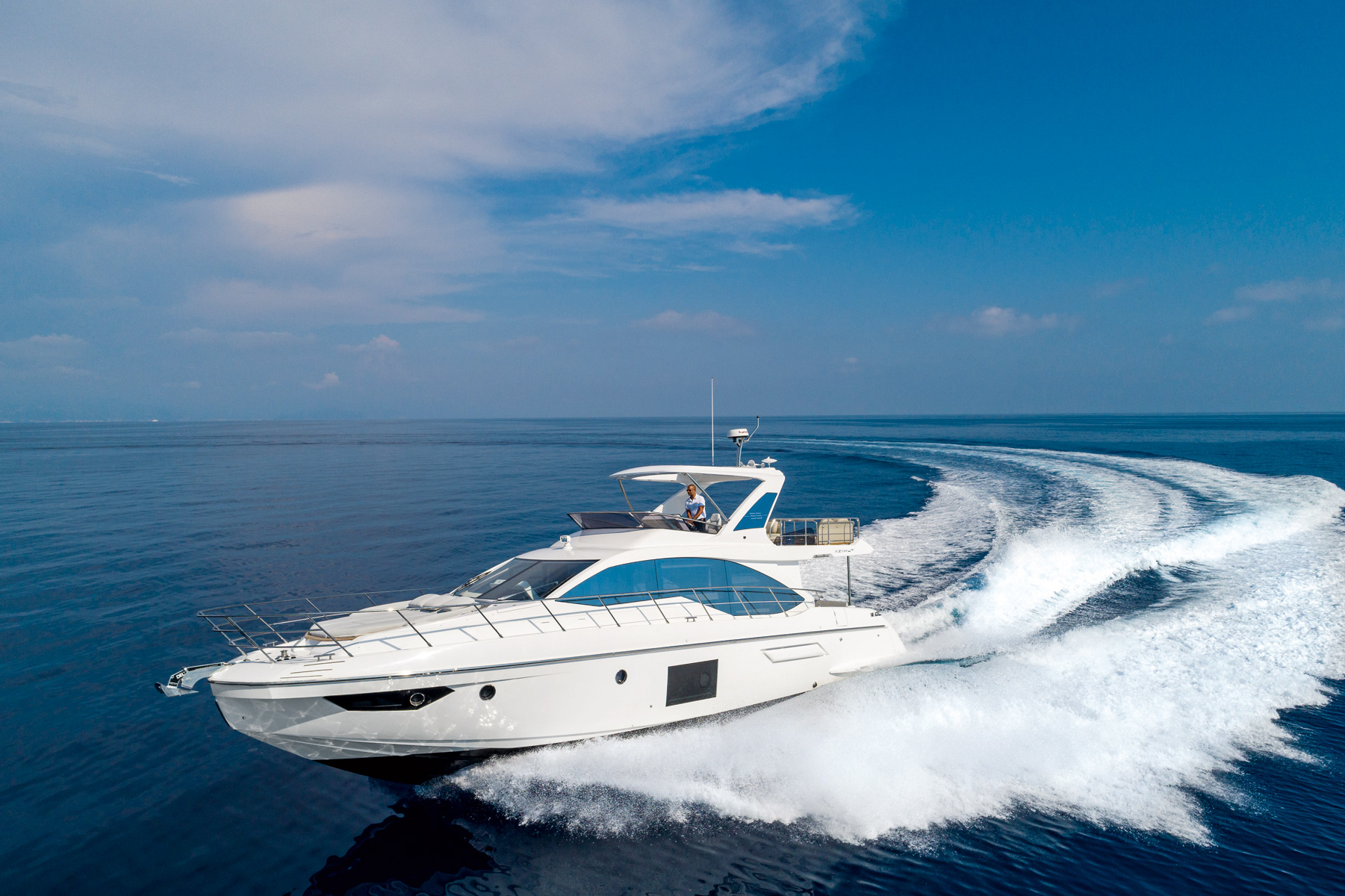 2020 – AZ55  270 Timer KR 18 500 000,- m/mva.
Bruktbåt tilgjengleig nå!  SOM NY Men vær rask. Forbehold om melleomsalg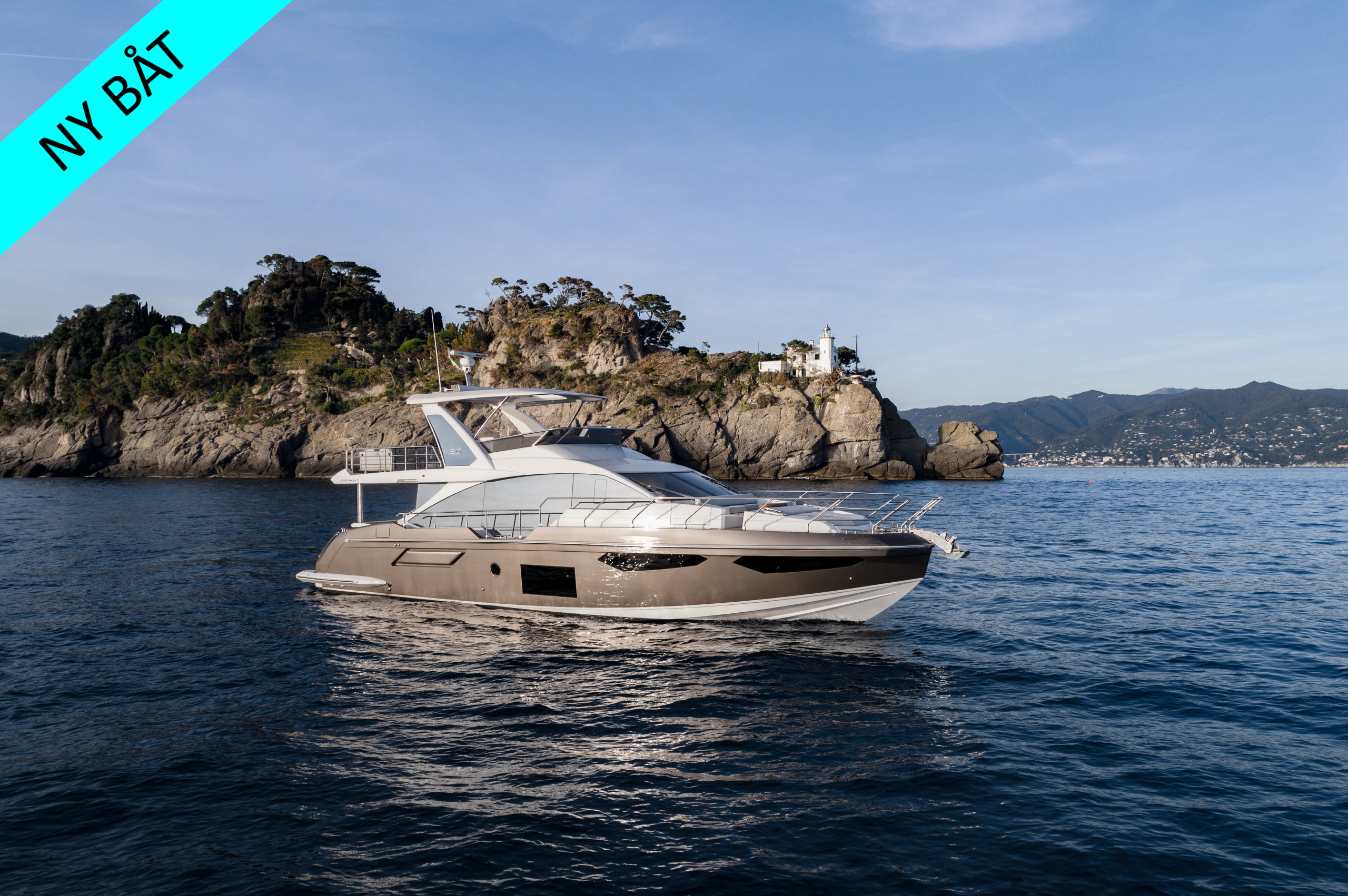 APRIL 2023 – AZ60/new Spec
Denne kan leveres vår 2023, men du må bestemme deg nå!
AZIMUT BENETTI FABRIKKENE
Copyright: Azimutyachts.com
The beginnings
Azimut Yachts came about in 1969, when the young university student Paolo Vitelli founded Azimut Srl, and began chartering sailing boats.
The first steps towards success
In 1970 some prestigious yachting brands appointed the company to distribute their boats in Italy.
Azimut quickly expanded its operations: Apart from distribution, it began to design new yachts. In a joint venture with Amerglass, it designed the AZ 43' Bali, a mass-produced fibreglass boat, which was an immediate success.
The company gradually expanded its range, focussing on the lower end of the market – with the launch of the AZ 32' Targa in 1977, the "Ford T" of the boat world – and upper end too – (with the memorable début of the Azimut 105' Failaka in 1982, the biggest mass-produced yacht in fibreglass at the time).

The acquisition of Benetti and the start of own production
In 1985 Azimut acquired Benetti. This historical brand, based in Viareggio, had been building boats since 1873, and designed the concept of the megayacht.
Azimut was now able construct its own yachts, defining new style and industry standards that would go on to revolutionise the boat building industry, such as: large frameless windows, electric seats, and walnut interiors.

New production sites and international recognition
From the late nineties onwards, with the acquisition of new boatyards at Fano, the restructuring of the Benetti boatyards at Viareggio and the construction of a new site at Avigliana, in the province of Turin, Azimut went on to become the foremost builder of yachts and megayachts.
This leadership position was confirmed in subsequent seasons, thanks to numerous business successes and an investment policy which has consolidated Azimut's technological and production capacities over the years, with sites now established in Brazil.
AZIMUTS HANDELSVARER?
Kunne du tenke deg klær eller andre effekter fra Azimut sin kolleksjon?  Vi har lagt alt opp i vår nettbutikk nå med priser.
Gå til denne siden å se mer:   NETTBUTIKKEN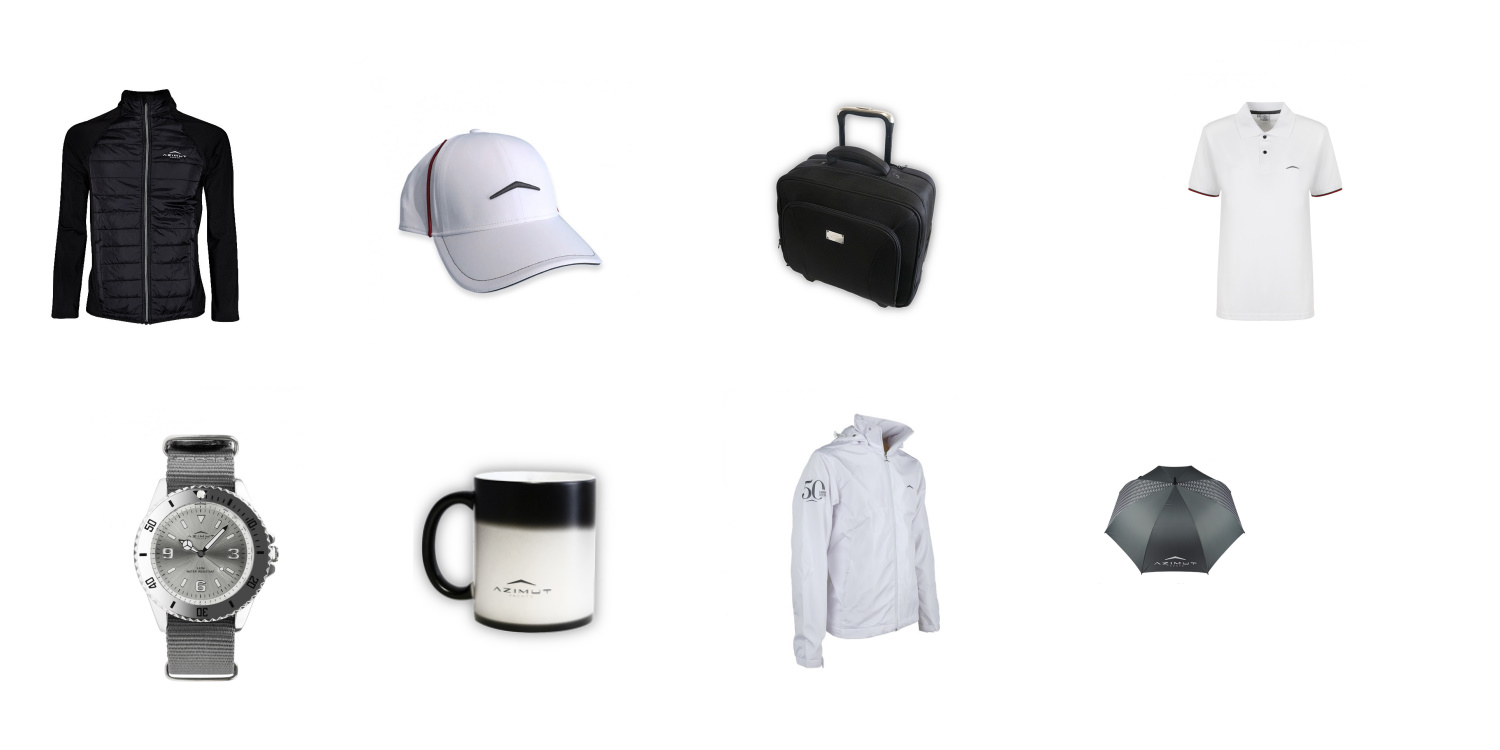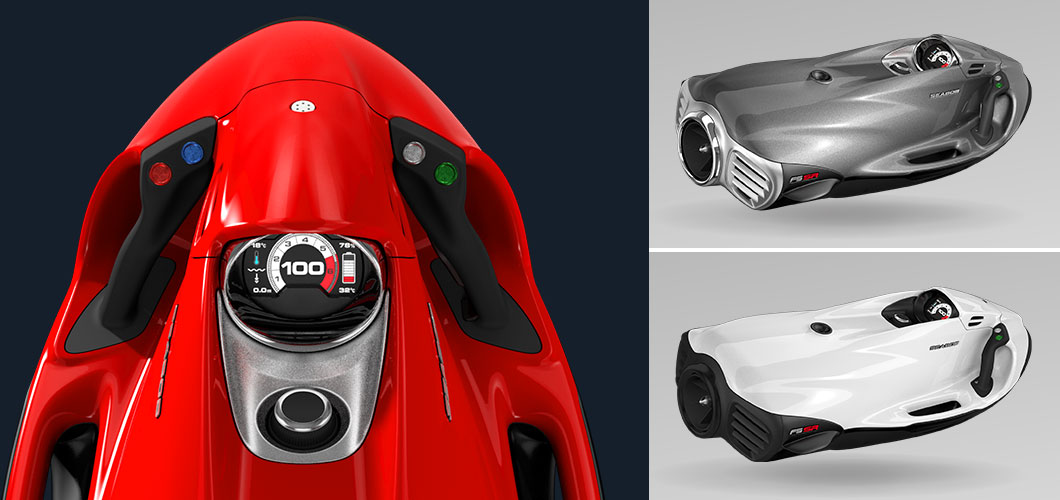 SEABOB AVTALE MED AZIMUT
Vi forhandler nå Seabob med gode betingelser gjennom Azimut avtale.
Mer info kommer. Har du tanker om en slik lekker sak. Ta kontakt og vi hjelper deg med fordelaktig pris.
Technology.


Quality right down to the last detail.
The SEABOB-Jet is the absolute paragon of cutting-edge technology. In order for the vehicle to live up to this claim, the drive unit was made using premium carbon elements, established ceramic coatings and precious metals resistant to salt water. Meticulously hand-crafted, this water sports vehicle is made of top-grade materials. The uncompromising quality standard is reflected in each and every detail.
The specially developed, high-performance electric-drive mechanism with its environmentally friendly technology is an exemplary innovation. The motor is a high-torque synchronised drive unit featuring a microprocessor-controlled 3-phase sinus power management system. The application of cutting-edge technology enables this motor to achieve the ideal amount of torque with outstanding efficiency. All this, and yet the overall design remains very compact.  
BÅT I VARME MIDDELHAVET?
Kunne tenke deg en større båt, men ønsker et varmere klima å bruke den? Vi kan også levere deg båt en plass i middelhavet.  Hva med Malta, Mallorca, solkysten Italia til Spania eller øyene rund Hellas og Kroatia.  Vi har kontakter gjennom våre forhandler kolleger i Azimut som kan hjelpe med båtplasser, service og ettersyn.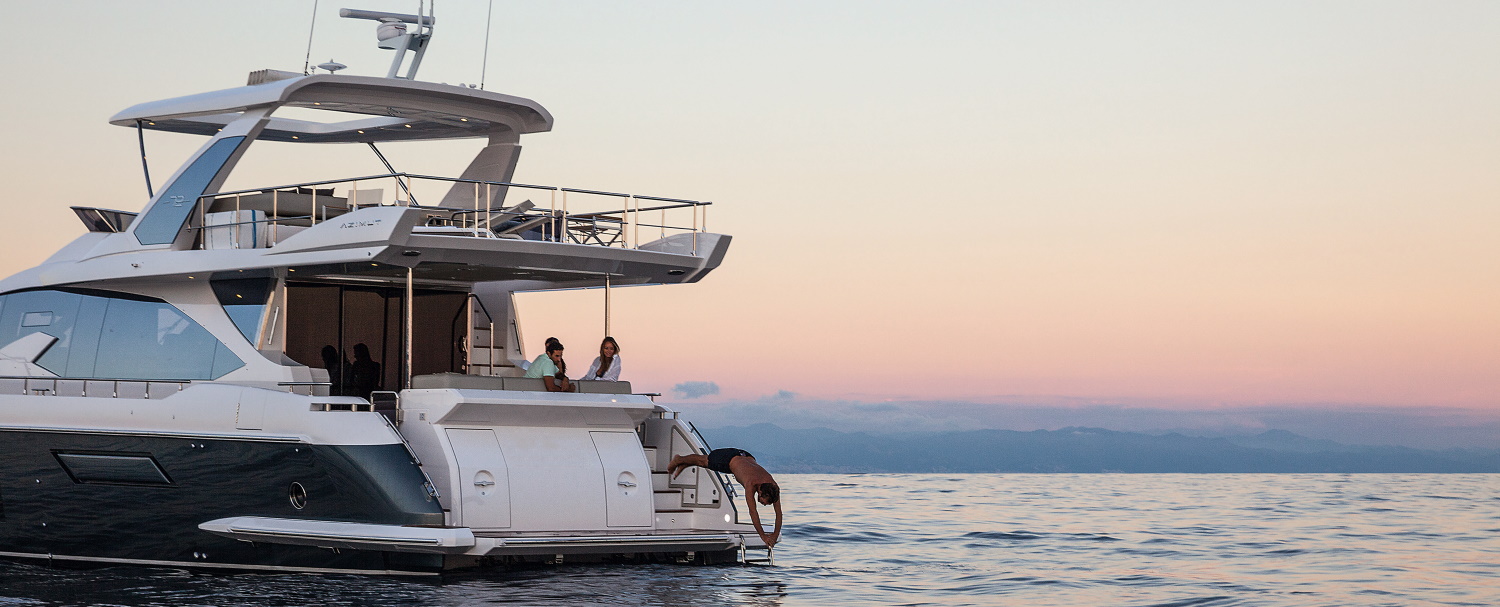 NYERE BRUKTE AZIMUT


På grunn av markedssituasjonen på ny båter ønsker vi å tilby nyere brukte Azimut båter fra våre forhandler kolleger i Europa.  Dette kan da være pene båter. med lite timer på.  Her kan det også være muligheter med 1 års brukt garanti på båten om muligt.  Har du en tanke om en Azimut du har sett deg ut, håper vi du tar kontakt med oss.  Så ser vi hva vi kan spore opp. 
SE VÅR SIDE FOR SERVICE OG DELER
Her finner du mer om YachtServices AS og vår nettbestilling av deler og utstyr