BÅT
 
AZIMUT 68 FLYBRIDGE 3XIPS
 INFO
VERFT: Azimut Yachts
PRIS STARTER PÅ: RING
DIM: 20,98 x 5,23 m
SENGER: 8+1 crew
NESTE LEDIG : 2023 – RING
KJØKKEN LØSNINGER TIL ALLE ØNSKENE.
Med et utvalg av tre hoveddekk oppsett og en flerfunksjonell sone, er nye Azimut 68 symbolet på en ekte «verdensyacht».
Utgangspunktet for designet var en omfattende analyse av alle de forskjellige måtene eiere og gjester bruker tiden sin på ombord, med tanke på variasjoner i livsstilsvaner og preferanser på tvers av forskjellige markeder. Resultatet er enda mer frihet, men denne gangen er båteiernes frihet til å velge oppsettet som best gjenspeiler deres ide om hvordan de skal få mest mulig ut av opplevelsene ombord.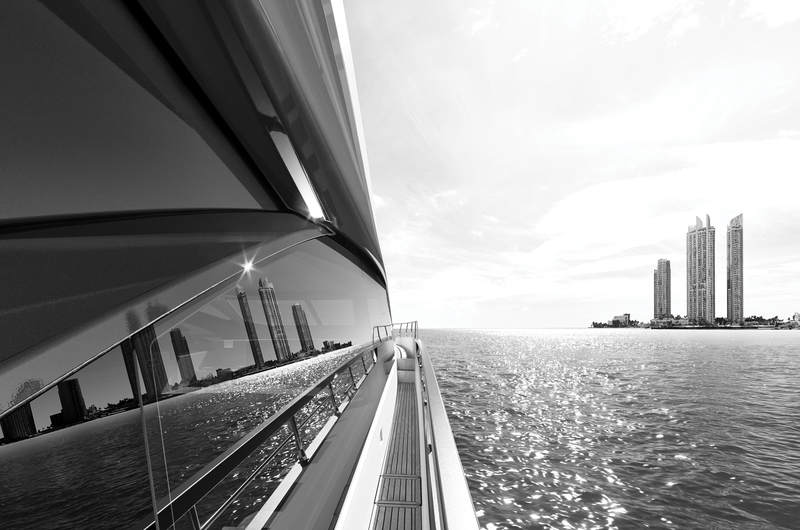 ÅPEN BYSSE LØSNING.
For eiere som søker et mer sosialt oppsett, er dette alternativet, som også ligger fremme med i båten, den ideelle løsningen. Byssa ligger på et diskret sted, men åpner direkte inn i spisestuen, som også kan gjøres om til en kaffe salong.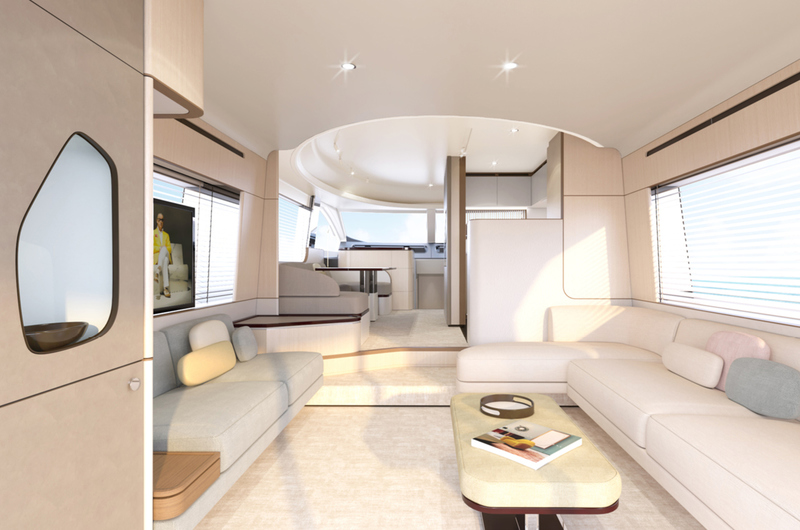 BYSSE AKTER VED DØREN
Denne oppsettet er litt mer uformelt, med byssa som ligger i akterdelen og spisestuen ligger umiddelbart når du kommer inn fra cockpiten, for en avslappet innendørs-utendørs flyt, mens stuen flyttes mot baugen.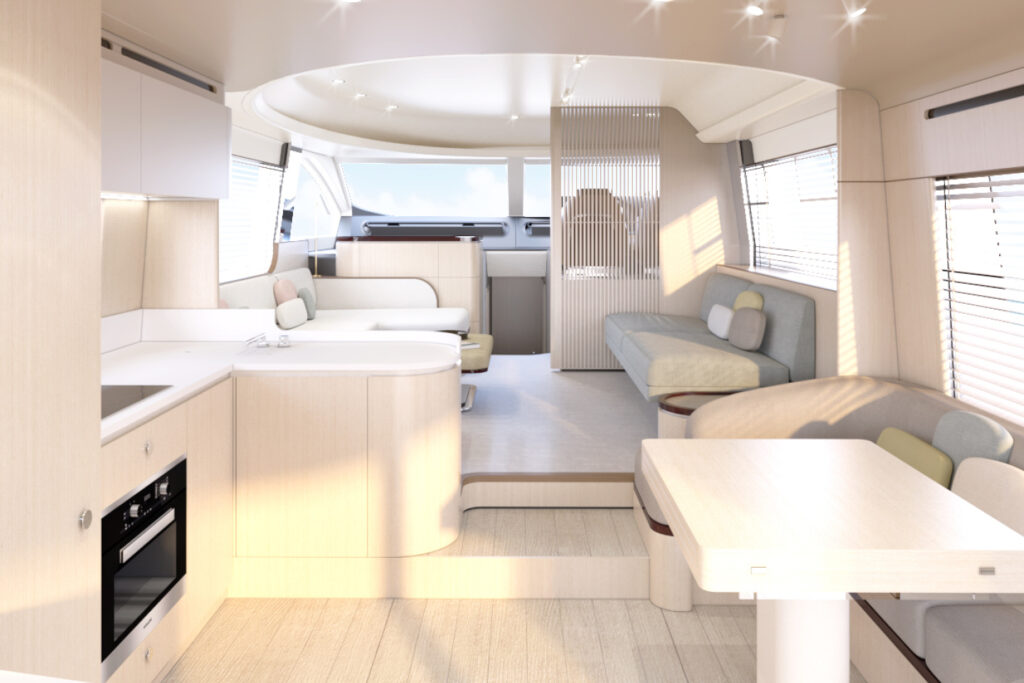 LUKKET BYSSE LØSNING.
En elegant stue ligger ved inngangspartiet til hoveddekket, med byssa gjemt bak en nyskapende kombinasjon av ribbet tre og plexiglass. Denne løsningen, kalt Lanterna, lukker byssa for å skape privathet, men lar lyset strømme gjennom hele rommet og gir et lyst og romslig miljø.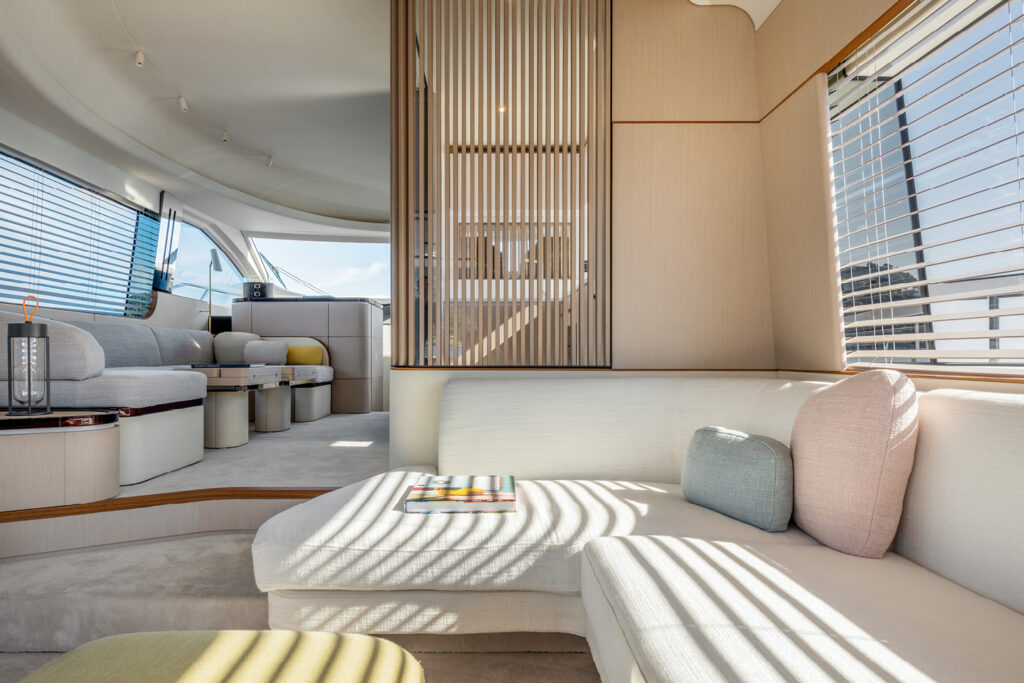 Official Video AZIMUT 68  FLYBRIDGE
Length overall (incl. pulpit)

Hull Length LH ISO 8666 (net GRP)

Draft (incl. props at full load)

Displacement (at full load)

Exterior styling & concept

P.L. Ausonio Naval
Architecture & Azimut
R&D Dept.
2 X VOLVO IPS
1350 (1000 HP)

Maximum speed (performance test mass)

Cruising speed (performance test mass)
DATA REFERS TO UNI ISO 8666 CONDITIONS
Azimut Yachts materials have been designed and developed to offer users the most accurate representation of the yacht possible. 
The finish, standard equipment and range of optional on offer may vary from hull to hull.
The information provided by materials (Virtual Tours, Images, videos, etc…) is for information purposes only. While Azimut Yachts endeavours to provide accurate information on this site, some may still contain technical inaccuracies or typographical errors. 
Azimut Yachts makes no representation or warranty as to the accuracy, completeness or authenticity of the image or representation of the product displayed with the image or representation of the product in reality.
Azimut Yachts reserves the right to modify at any time, without notice, any content and characteristics of any yacht and megayacht, including, but not limited to, colours, materials, optionals and equipment.
ØNSKER DU Å SE NÆREMERE PÅ DENNE BÅTEN?
Step 1  Klikk på bilder og ser båten «virtual» 
ØNSKER DU Å SE NÆREMERE PÅ DENNE BÅTEN?
Step 2  Få tilsendt en brosjyre på epost av denne båten. Fyll inn i skjema og send.