BÅT
           
AZIMUT MAGELLANO 66 2021
 INFO
VERFT: Azimut Yachts
PRIS STARTER PÅ: RING
DIM: 20,15 m x 5,54 m
SENGER: 6/8+2 crew
NESTE LEDIG : UTSOLGT – RING
OFFISIELL VIDEO AZIMUT MAGELLANO 66
MAIN TEHCNICAL DATA
---

Length overall (incl. pulpit)


20,15 m (66′ 1»)


Hull length (incl. platform)

 

Beam max

5,54 m (18′ 2»)')

Draft (incl. props at full load)

1,68 m (5′ 6»)

Displacement (at full load)

46,4 t (102293 lb)
 

PROJECT

---

Building material

GRP + Carbon Fibre

Exterior, Interior designer

Azimut Yachts

Hull designer

P.L. AUSONIO Naval Architecture & Azimut R&D Dept.

Keel

Semiplaning Dual Mode Hull

Builder

Azimut Yachts
ACCOMODATION

---

Cabins

3/4 + 1 crew

Berths

6/8 + 1 crew

Head compartments

3 + 1 crew
PERFORMANCE

Engines

2 x 850 hp (625 Kw) MAN i6

Maximum speed (performance test mass)

Up to 24 kn

Cruising speed (performance test mass)

Up to 19 kn
TANK CAPACITY

---

 
 

Fuel capacity

4500 l (1189 US Gal)

Water capacity

1000 l (264 US Gal)
DATA REFERS TO UNI ISO 8666 CONDITIONS
CARBON-TECH GENERATION
The use of carbon fibre is a construction choice that allows volumes and surfaces to be increased in size while keeping the same weight, therefore maintaining excellent levels of dynamic stability. Carbon fiber lamination is applied to:
flybridge

hard top (opt)

platform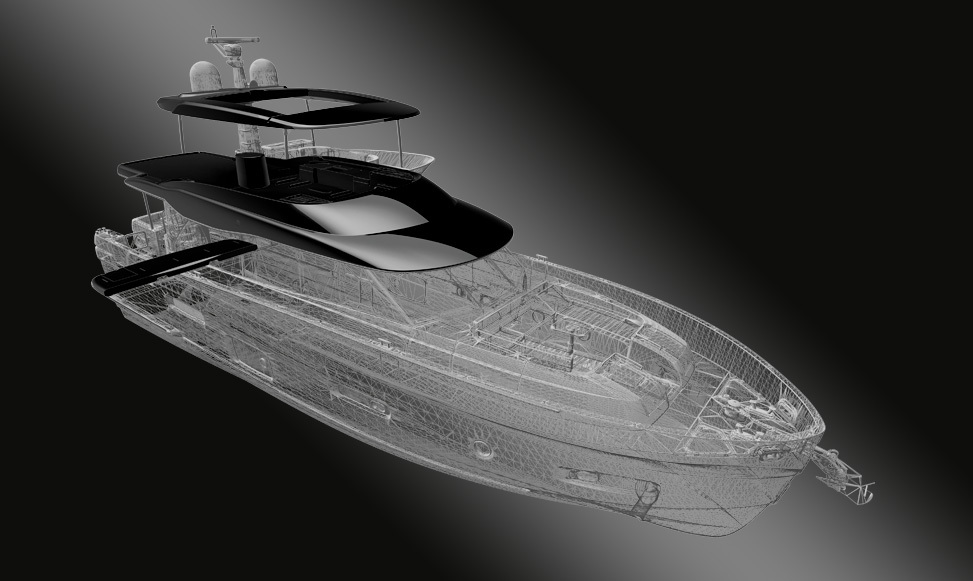 Double chine dual mode hull

The new Dual Mode Hull generation. Smooth and unslammable, it ensures comfortable navigation and excellent seakeeping even in moderate sea conditions.

The upper chine provides a larger beam at low speed, assuring an excellent dynamic stability while, at higher speed, the flow separates from the lower chine which is shaped for least resistance, thus reducing the friction and increasing range and fuel efficiency.
Navetta option

The living area can be separated from the forward piloting and galley area for unprecedented privacy, surpassing even bigger boats. The crew can perform their work without having to access any of the spaces reserved for the boat owner and guests. Access to the side walkway is through a door in the galley, allowing the crew to reach their own cabins without crossing the saloon.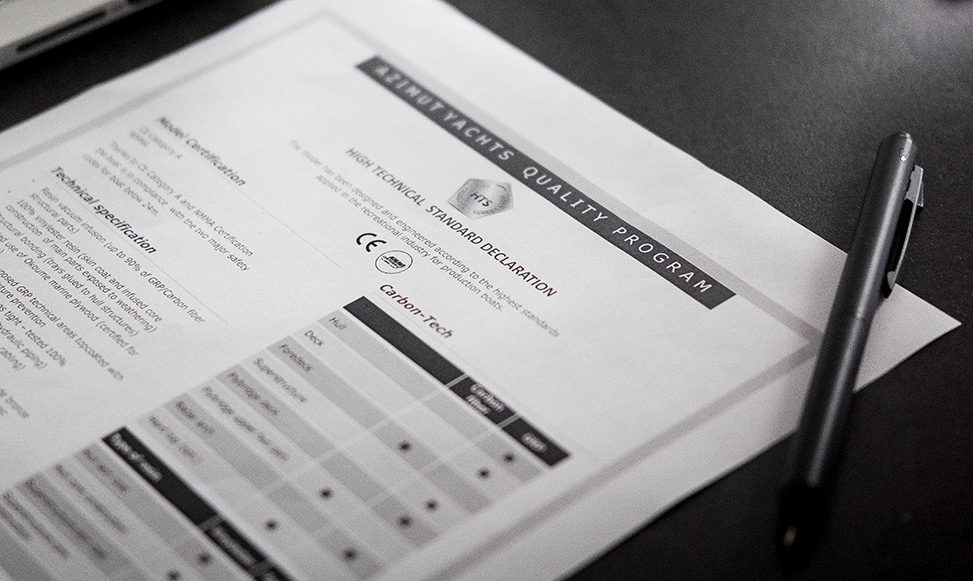 HTS High Technical Standard declaration

Magellano 66 has been designed and engineered according to the highest standards applied in the recreational industry for production boats. With CE Class A and NMMA Certification, the boat is in compliance with the two major safety codes for boat under 24 meters.
ØNSKER DU Å SE NÆREMERE PÅ DENNE BÅTEN?
Step 1  Klikk på bilder og ser båten «virtual» 
ØNSKER DU Å SE NÆREMERE PÅ DENNE BÅTEN?
Step 2  Få tilsendt en brosjyre på epost av denne båten. Fyll inn i skjema og send.